Blue Seas
13 Regent Terrace
Tel: 01736364744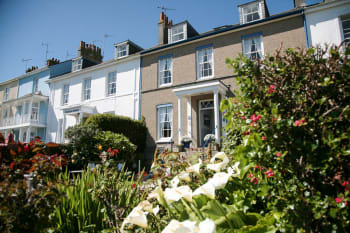 Located within metres of Penzance's promenade the hotel looks out over Mount's Bay. The place itself is a charming grade II listed building set in a Regency terrace minutes from Penzance town center making it one of the best positioned guesthouses in Penzance. Our rooms are all en-suite, most of them having stunning sea views over Mount's Bay towards Newlyn. On the ground floor overlooking the garden and the sea front you will find a spacious guest lounge and reading room with the latest novels, informations about our region, games and a selection of daily newspapers. We prepare a wide range of breakfast choices; from the traditional full English and the continental buffet with fresh fruits, variety of cereals, yogurts, croissants, and home-made brioches, bread, jams and marmalade, etc..to the eggs Benedict or the fresh pancakes.
Availability
There are no rooms available at Blue Seas
for these dates.
Please try other dates or select a
different property
.
rooms
Facilities
Bathrobes
Courtesy tray
Breakfast Room
Complimentary Newspapers
Early Breakfast By Arrangement
Fax/Email Facilities
Internet Access
Lounge
Luggage Storage
Packed Lunch By Arrangement
Policies
Check In: Between 14:00 and 20:00
Check Out: Between 6:00 and 10:00
Wi-fi: Wireless internet is available and is free of charge.
Smoking: There is no smoking permitted anywhere within the property.
Parking: Parking for all guests is available on site and is free of charge.


Children: All guests must be 18 or over, no children are allowed.
Pets: Pets are not allowed.
Groups: Groups are accepted up to a maximum of 4 people. No stag and hen groups.
Average
5.0
out of 5
124 reviews
100% recommend
Reviews
31st October 2020:

Great Welcome Spotless Rooms Fantastic Breakfast PERFECT STAY
Would Recommend: Yes
16th October 2020:

Such a lovely place to stay cannot fault it. Breakfasts are amazing and the treat of the home made biscuits in our room was very welcome after a long walk.
Would Recommend: Yes
5th October 2020:

Brilliant hotel, very friendly owners, beautiful rooms and fantastic breakfasts. Best place to stay in Penzance, won't stay anywhere else.
Tips:
On a nice day the sea view walk to Maazion and St Michael's Mount is amazing. Also the Geothermal pool at the Lido.
Would Recommend: Yes
27th September 2020:

Great little hotel in brilliant location, just behind the Jubilee pool in a sheltered terrace with pretty little garden where we were able to sit in the sun. Private parking, which is a real positive. Hosts Fiona and Arnaud made us feel really welcome. Fiona is a great mine of information about anything local, and Arnaud cooks the best breakfasts we've had in a while (definitely 5*).
Tips:
There are some good restaurants in Penzance, and the best ones we went to were the Boatshed and the Old Lifeboat House. For lunch, there is a nice little place at the Jubilee Pool (gets very busy) and the Dolphin pub was very popular nearby. We loved Porthleven (some lovely little shops) and Sennen, and Marazion beach. Mousehole is worth visiting, if only to watch the cars trying to negotiate the narrow roads - recommend you walk there as it's not that far. Penzance itself was busy but not as crazy as St Ives, so felt reasonably safe during these Covid times.
Would Recommend: Yes
16th September 2020:

This is our third time staying at Blue Seas and each time has been excellent. Lovely breakfast as well.
Would Recommend: Yes
15th September 2020:

Fiona and Arnauld were very welcoming - not just letting us drop our bags early but providing coffee and a snack. The room was reasonably spacious with a great view. Plentiful and varied breakfast and zero irritations with our whole stay. For us it was as close to perfection as it gets.
Would Recommend: Yes
14th September 2020:

Highly recommend. The best b&b in our experience! Charming rooms, immaculately clean, which is so important in times of COVID - we felt super safe and comfortable; great variety for breakfast and everything was sooooo delicious... Thank you, Chef! We enjoyed every minute of our stay in Blue Seas, and for that we should truly thank the owners - they are running the place with incredible passion, energy and enthusiasm. They couldn't have done more to make our stay absolutely perfect. Just hope there will be a free room for us next time we go to Cornwall. :)
Would Recommend: Yes
12th September 2020:

Attention to detail is second to none. Fiona & Arnaud couldn't do enough for us and the standard of cleanliness throughout the premises is outstanding.
Tips:
Blacks and Alverne restaurants are excellent but book early to avoid disappointment. Bus and train transport in Penzance is excellent.
Would Recommend: Yes
8th September 2020:

Just like staying with friends - another perfect break in a lovely little hotel. We'll be back!
Would Recommend: Yes
6th September 2020:

High quality accommodation in excellent location. Very friendly hosts. Would definitely recommend.
Would Recommend: Yes
1st September 2020:

Would Recommend: Yes
30th August 2020:

Of course we would recommend Blue Seas Hotel to our close friends and family, however it is tempting to want to keep it all to ourselves ! Joking aside the experience from start to finish was exceptional with no exaggeration needed. We opted for breakfast with our room and I must admit it was the finest breakfast we have experienced at any hotel of anyplace we have stayed. Both myself and my wife weren't sure weather to tuck straight in or sit back and admire as every mornings plate resembled a work of art..
Tips:
Certainly don't eat too much the night before or you just might miss out on the best breakfast this side of anywhere you please. If you're hiring a car for your stay make sure it's a small one as the roads are very narrow. Drive slowly and be considerable of other road users. Visit as many secluded coves and bays as you can, most of them haven't changed visually for hundreds of years... Be polite to locals and bare in mind that "your" weeks holiday destination happens to be "their home". Take the time to just sit and enjoy your short time there as it seams most folk are in too much of a rush these days. They a missing out ! Bring a waterproof coat and or a brolly, Cornwall has its own micro climate and can be both sunny and wet in the same hour. Take lots of photos. Enjoy
Would Recommend: Yes
29th August 2020:

Very welcoming and helpful. Rooms are spotless and comfortable. Breakfast selection is amazing. The home made yogurt was delicious as was the bread. The cooked breakfast is one of the tastiest and best cooked I've had. Great location for exploring and relaxingg, we enjoyed our stay and would come again.
Tips:
Great Central location for walking and exploring. The Yaught Inn around the corner provided a reasonable priced meal which was cooked well and is ideal if you've walked all day and want something low fuss and nearby. Mr Billy's was good for a cream tea.
Would Recommend: Yes
26th August 2020:

What a gem of a find Blue Seas is. Perfect in every way and our hosts Fiona and Arnaud couldn't do enough to make our stay as memorable as possible. We will be recommending this 5 star guest house to all our friends and will be returning as soon as we can.
Tips:
St Michaels Mount is a MUST ....but book in advance. Try to see a performance at the Minack Theatre ....it is so memorable. visit Kynance Cove...which is so picturesque and the walk between Lands End and Sennan Cove is beautiful.
Would Recommend: Yes
25th August 2020:

Would Recommend: Yes
22nd August 2020:

Absolutely amazing B&B stay. If you are ever in the Penzance area and there is availability, BOOK! The hotel owners are so friendly and can't do enough for you. They even organised a special treat for my wife's birthday which made our trip even more special! The breakfast has so many choices and is some of the best B&B breakfast I've had. Thanks for a brilliant stay!
Tips:
Park at Sedden beach and do the coastal walk to Lands End.
Would Recommend: Yes
21st August 2020:

Would Recommend: Yes
20th August 2020:

Would Recommend: Yes
18th August 2020:

My wife and me only managed to get 3 nights and though the weather wasn't great for the whole duration, the owners of the guest house has helped us alot to make the most of our time with loads of advices. They are also very captivating during conversations. The hotel it self is more than what you would expect, also considering that the whole reason for a trip is to go out there and enjoy. All n all has been a very pleasant experience and will plan to go there in the future!
Tips:
The lady of the house does a far better job of pointing out the most important points of interest.
Would Recommend: Yes
17th August 2020:

Would Recommend: Yes
16th August 2020:

Our 2nd visit to this lovely place.Always great and the owners go hhe extra mile to ensure your stay is the best.The breakfast menu is unbelievable, in choice,the quality of food and everything is home made down to the delicious yogurts.
Would Recommend: Yes
15th August 2020:

Location = superb Room = large, clean, bright, amazing outlook, modern, inviting, loved the bathroom products Parking = brilliant Hosts = very friendly, greeted with a smile, interested in their guests' days out, what they'd been visiting, able to give advice on local area if needed Food = lots of choice, tasty and beautifully presented General opinion of whole stay = fantastic
Tips:
Accommodation easy accessible for train and bus transport links. Plenty of sea swimming available and of course the Jubilee outdoor swimming pool. Close to town centre and Penzance leisure centre. Enough restaurants available in area. St Michael's Mount within walking/cycling distance and other NT properties Great place to chill
Would Recommend: Yes
11th August 2020:

Me and my husband stayed for our first anniversary and Blue Seas lived up to our expectations and then loads more! I loved that everything was eco-friendly and plastic free! And that most things have been sourced locally. Hosts were amazing and were really friendly and helpful! Views from our bedroom were spectacular. Breakfast was so tasty and the little treats in our room were a lovely touch. Could not fault anything. Will definitely stay here again.
Tips:
Jubilee pool Dolphin and whale watching St michaels mount Lands end Great restaurants 5 minute walk away
Would Recommend: Yes
2nd August 2020:

Wonderful stay and hosts warm and welcoming. Beautiful rooms, lovely touches with high quality toiletries that are local and great choices for breakfasts....the eggs Benedict are the best! Will definitely be back - thank you for looking after us so well
Would Recommend: Yes
2nd August 2020:

Friendly and welcoming. Rooms are beautifully decorated and very comfortable. Breakfasts are first class.
Tips:
Spoilt for choice - simple walks and breathtaking views from the majestic St Michael's mount to the sleepy streets of Mousehole.
Would Recommend: Yes
29th July 2020:

Always a good experience and enjoyable stay at Blue Seas which is why we choose to return as often as we can over the years. Penzance and the Blue Seas combine to give us the ideal break. Although we have no hesitation in recommending to others, I tend to be very guarded about revealing what an ideal spot we have found as people seem to book up increasingly well in advance throughout the year. A bit possessive really I'm afraid to is that good.
Would Recommend: Yes
26th July 2020:

Despite the need for C-19 protection measures, Fiona and Arnaud were able to make me feel welcomed and safe. They provide an outstanding service with lovely touches such as Arnaud's yummy daily biscuits, madeleines etc in your room daily and the best breakfasts!! I can highly recommend the local smoked haddock!
Tips:
In addition to the beaches and coastal walks, go slightly inland and explore the numerous stone circles, standing stones, holy wells, quoits and iron age villages!
Would Recommend: Yes
14th July 2020:

Fiona and Arnaud are extremely welcoming, their level of customer service and care to detail is brilliant. The breakfasts look delicious and taste accordingly ( so I was told) The accommodation is spotlessly clean and every effort is being made to comply with Covid19 regulations. We felt totally safe and comfortable during our stay.
Tips:
There is much information on local places of interest held at the hotel and also, Arnaud and Fiona are a great source of information on all places of interest and dining experiences locally.
Would Recommend: Yes
6th March 2020:

Perfect in every way
Tips:
To answer this all you have to do is talk to either Arnaud or Fiona Ruetsch, your hosts, and all your questions will be satisfied.
Would Recommend: Yes
22nd February 2020:

Wonderful hosts and the most delicious breakfasts ever! The bedrooms are tastefully decorated and homemade biscuits a lovely touch.
Tips:
Would recommend The Market Place Fish Bar for fish and chips(Upper Causeway Head), Tolcarne Inn, Newlyn for delicious sea food and more. Kurt Jackson gallery in St Justis well worth a visit.
Would Recommend: Yes
18th February 2020:

Everything about our stay was great. Bedroom was very nicely furnished and decorated very clean and well equipped breakfast fantastic and service very high standard. Staff very friendly welcoming and helpful. Would very much like to return
Tips:
Walk to newlyn. Turks head pub and local thai restaurant very nice. Sennen beach dramatic and lovely place to visit for a walk
Would Recommend: Yes
26th October 2019:

I can't say enough about how much we enjoyed Blue Seas. The owners, Steve and Jane, are absolutely lovely people who go above and beyond to ensure that your stay is the best. They clearly thought through the details of what their guests would appreciate -- a great location, comfortable beds, bath robes, extra bedding, a large bathroom with a large shower, a towel heater, a delicious breakfast, a place to enjoy a casual drink, and the list goes on!
Would Recommend: Yes
19th October 2019:

Lovely hosts, beautiful house. I really enjoyed my stay.
Would Recommend: Yes
14th October 2019:

We were really happy with the service and help we received throughout our stay. We cant praise the proprietors highly enough. The hotel itself was of the highest standard with regards to every thing from the exquisite decor, beautifully laundered bedding, to the white fluffy towels and spotless en-suite. The breakfasts were delicious and to your exact requirements.
Tips:
We found the Dolphin Pub to be exceptionally good for both food and service. Penzance itself is brimming over with interesting shops and lots of cafes, and an 'excellent' Fish and Chip Shop just around the corner from the Blue Seas. We love the coastal walk to Mousehole, and St Michaels Mount Marazion is definitely worth seeing. Also Porthleven is a very pretty place to look around.
Would Recommend: Yes
14th October 2019:

Perfect in every way!
Would Recommend: Yes
11th October 2019:

Very comfortable rooms in a large regency era house. Good selection of breakfast fare. Good personal touches such as bottled water available in room. Host very knowledgeable on local area and expected daily weather!
Tips:
Good local pubs in Penzance serving good standard of food, best to book though. Penzance is ideally located to visit most of the tourist attractions in Cornwall, and by public transport as we did.
Would Recommend: Yes
6th October 2019:

The minute I arrived I was warmly welcomed! Even driving in was perfect because they have guest parking and the loveliest front garden!! Standing there you have a beautiful view of the sea and can hear the gulls song and waves crashing! My room was on the 3rd floor and after Fiona's helpful tips Arnaud took my suitcase up and showed me to my delightful room - Tader Du. Wow! Gorgeous view of The sea, promenade, and Newlyn. Special homemade treats with the tea set up. The bed was comfortable and bathroom very nice! Breakfast was delicious and served up with a smile and helpful advice for my days journey. Such a lovely stay - such warm people!
Tips:
I enjoyed my walk around town, thru gardens, along the promenade and over to Newlyn very much! My visit over to St Michael's Mount was perfect! My dinners at admiral Benbow and Turk's head was very good! Really friendly people. I felt safe walking alone. Go see Minack theater, some beaches and walk on the southwest coast path!!
Would Recommend: Yes
15th September 2019:

Everything, including the friendly welcome, the magnificemt breakfast and the helpful advice when needed, was perfect.
Tips:
Try The Bakehouse for excellent food at good prices served by charming young people!
Would Recommend: Yes
11th September 2019:

Brilliant-wonderful hosts and friendly atmosphere among guests and hosts. Breakfast is terrific, no need for lunch. Full breakfast buffets and order off fantastic menu. Rooms and beds are comfortable. Parking is easy accessing front of the property
Tips:
Enjoy!
Would Recommend: Yes
8th September 2019:

Excellent location/fabulous view/lovely welcome and the breakfast options, presentation and quality of cooking take this B & B into a different league.
Would Recommend: Yes
4th August 2019:

A cosy place with a nice and friendly staff and a delicious breakfast! We would love to come back.
Would Recommend: Yes
2nd August 2019:

A friendly couple and willing to give any information you require, the breakfasts cooked to perfection and room very clean and with a well stocked tray of beverages and snacks.
Tips:
Th hotels is very convenient for trains and buses and within walking distance of other local areas, lots of interesting pubs, we enjoyed the Admiral Benbow, very good food and service. Well worth the walk to Marazine for a visit to St.Michaels Mount and so much more around for interest
Would Recommend: Yes
25th July 2019:

Clean, bright and spacious rooms. Excellent breakfast even in adversity due to unforeseen circumstances. Owners, staff very friendly and welcoming.
Tips:
Excellent meals in Mermaid Alley and Blacks of Chapel Street. Would recommend pre booking.
Would Recommend: Yes
24th July 2019:

We had a wonderful welcome chat with Fiona over coffee and scones on the front lawn. Our room was clean and comfortable with lots of extras. We particularly liked the heated towel rail. Breakfasts are fantastic with a wide choice and cooked to a professional standard by Arnaud. Would not stay anywhere else when visiting Penzance. Keep up the good work!
Would Recommend: Yes
15th July 2019:

Kind, hospitable, and ready to be of any assistance - that characterizes Fiona and Arnaud. We appreciated a big bag of ice after falling on a trail. We were grateful for directions involving the King Harry ferry saving us time as we journeyed to St. Mawes. Delicious home baking very day left in our rooms daily.
Tips:
Don't miss the Isles of Scilly. Ate at the Dolphin around the corner and it was reasonable and delicious.
Would Recommend: Yes
14th July 2019:

Nicest hotel we've stayed in for a long time. Definitely the cleanest and very well decorated. Absolutely spotless. Fantastic breakfast with so much choice. Very friendly and helpful. Nothing was too much trouble. Gave advice as where to go, how to get there, best places to eat. Altogether a fabulous place.
Tips:
St Michaels mount was wonderful but beware the climb as the steps are uneven and in some places difficult. Admiral benbow was interesting but the food was only so so. St ives was lovely but make sure you park at leisure centre and maybe catch the bus back up as very busy and the roads are very narrow
Would Recommend: Yes
12th July 2019:

Best breakfasts ever!
Tips:
Eat at the Tolcarne Inn, Newlyn. Buy an Art Pass.Catch a bus to St.Ives - the quickest way to get there. See what's on in Penlee Park open air theatre. Great independent shops in Penzance.
Would Recommend: Yes
10th July 2019:

Nothing too much trouble for Fiona & Arnaud, fabulous choice for breakfast and certainly good provisions in the bedroom. Would highly recommend their bed & breakfast to anyone, that's why we keep returning.
Tips:
There are a number of good restaurants in Penzance and a good fish restaurant in Newlyn. Good base for exploring & walking the South West Coastal Path.
Would Recommend: Yes
10th July 2019:

This is a lovely place to stay, excellent breakfasts and lovely homemade biscuits in our room. It really could not be better.
Tips:
Newlyn Cinema and Penlee Gallery
Would Recommend: Yes
21st June 2019:

It was the second time after 9 years that we stayed for 5 days in Blue Seas. This year we travelled with our friends and were happy to enjoy again the hospitality and the warm welcome with scones and tea when we arrived. Among others travellers should not miss this hotel in Pensance because they would miss the delicious breakfast
Tips:
We liked the old Pub "Turks Head"
Would Recommend: Yes
17th June 2019:

Wow. What an enjoyable stay we had. Super clean, fantastic breakfasts, genuine and welcoming hosts.
Would Recommend: Yes
16th June 2019:

Fiona and Arnaud are very welcoming and helpful hosts. Blue Seas is in an excellent location, convenient to transport, restaurants and other facilities, and has lovely views over Mounts Bay. Our room (7) was spacious, a very comfortable bed, very good ensuite, perfectly clean and a lovely view. The breakfasts were the best we enjoyed in three weeks in England (and that includes 5 star hotels). The cold selection was excellent and Arnaud's cooking absolutely delicious.
Tips:
Fiona and Arnaud will have plenty of tips but there are quite a few very good restaurants in Chapel Street, including Blacks, the Bakehouse and the Turks Head Pub. Two Fore Street in Mousehole is an excellent place for lunch but you might be wise to book. Penzance is a very good base to explore the surrounding area. We had hoped to do more walking but the weather did not cooperate. Nevertheless, it is a good base for that and driving around as well.
Would Recommend: Yes
12th June 2019:

A lovely place to stay! Spotless, excellent facilities and the best breakfasts. Fiona and Artaud are friendly and welcoming. Located with a sea view from some of the rooms, view over pretty back courtyard as alternative. Would strongly recommend.
Tips:
Ideally located to explore St Ives, attend Minack theatre, pretty beaches within easy reach. Lots of great places to eat within walking distance
Would Recommend: Yes
11th June 2019:

The breakfast was amazing! The selection of homemade breads and the prepared to order eggs/bacon/mushrooms were exceptional. The room was comfortable and beautifully decorated. The whole place was very light and welcoming. The hosts provided great advice/recommendations about what to see and where to go. Staying with them made our whole trip better.
Would Recommend: Yes
9th June 2019:

as ever blue seas was everything we have come to expect it to be. rooms spotless. breakfasts the best we have ever eaten anywhere.superb cream tea on arrival.would not dream of staying anywhere else.
Tips:
blacks restaurant in chapel street .the alverne.the pirates rest chippy is the best in penzance.
Would Recommend: Yes
24th May 2019:

Blue Seas was a truly delightful guest house. The old stone house has been meticulously updated and maintained and our room had a fresh but not overdone seaside theme. How perfect given the coastal view from our window. Breakfast was more than we hoped for... fresh everything and a made to order hot breakfast if desired. The breakfast room was charming and comfortable as well, with current newspapers, and a cold buffet that included home made yogurt, baked goods, fresh fruit etc. Our hosts were friendly but not intrusive.
Tips:
We enjoyed walking around this little coastal town and found great dinner options within 3-6 blocks. We left our rental car in the lot and enjoyed taking the bus to other seaside areas like St. Ives. Parking near village centers is near impossible, and the transit system is excellent.
Would Recommend: Yes
22nd May 2019:

Ideally situated place to stay for amenities in Penzance. Great views of the sea and bay. Comfortable and attention to detail was amazing. So much choice at breakfast and freshly cooked for you. Owners very friendly and helpful. Will definitely stay again and thoroughly recommend. Thank you again for for a great stay.
Would Recommend: Yes
12th May 2019:

Fiona and Arnauld were perfect hosts.They made us feel really welcome.The hotel is immaculate we have never stayed anywhere that was so clean and very tastefully decorated. The whole hotel is lovely and the breakfasts were exceptional. We really enjoyed our stay there.
Tips:
The waterside meadery is a good place to eat as is the dolphin pub.we also like the local indian restaurant in daniel place.
Would Recommend: Yes
7th May 2019:

A classy and professionally run B & B making it a delight to stay there. Fiona is a live-wire font of information and Arnaud is a breakfast cook of distinction. Nothing was too much trouble for them and they made our stay most enjoyable.
Tips:
Ask for a demonstration on the high tech showers, as once you've mastered them they are excellent. Lots of good restaurants nearby but the Mackerel Sky Café is a must if you enjoy fish - outstanding!
Would Recommend: Yes
5th May 2019:

Would Recommend: Yes
2nd May 2019:

Super comfy beds, delicious breakfast, lovely staff, rooms to a high spec with new showers and facilities. Thanks for having us! Would definitely stay again.
Tips:
The artist residence Cornish Barn for food was lovely!
Would Recommend: Yes
1st May 2019:

Excellent hosts,they are most welcoming and nothing is too much trouble. The breakfast beats any 5 star hotel we have stayed in. The standard of cleanliness is exceptional.
Tips:
St Michael's Mount is a must to visit while in the area.
Would Recommend: Yes
24th April 2019:

We have already recommended you to our families and friends planning to visit Cornwall. It was a great stay.
Would Recommend: Yes
Owner Response:
Thank you very much for your kind review. We are looking forward to welcoming your friends and family when touring Cornwall.
20th April 2019:

We are a mother and son from Finland and we have spent our winter holidays in the Blue Seas Hotel now for several years. Penzance is a very good place to get to know Cornwall and Blue Seas is a perfect place to stay in Penzance. It is a very beautiful, cosy and calm hotel with the best breakfast you can imagine. All info you might need you'll get from Fiona and Arnaud. Perfect rest! Erinomaisen ihana hotelli!
Would Recommend: Yes
18th April 2019:

Very welcoming. Wonderful breakfasts, treats like delicious biscuits in the room, sea views, very comfortable bed, and lovely front garden to sit in. Thank you! I'll be back.
Would Recommend: Yes
4th April 2019:

All rooms were very well equipped, clean and comfortable. Breakfast was plentiful cold buffet starters and hot cooked to order, with lots of local produce. Lovely garden to sit in with lots of flowers. Car park on site very handy
Tips:
Easy walk to Cornish Pirates rugby ground. If going to St Ives don't drive take the train from Penzance heaper than park n ride. Admiral Benbow, Turks Head and Longbow great for drinks and food.
Would Recommend: Yes
2nd April 2019:

Would Recommend: Yes
4th March 2019:

Another excellent stay at Blue Seas, the breakfast is the best, the cleanliness of the room is outstanding and the sea view is gorgeous
Tips:
Good location for walk to Newlyn and Mousehole, easy access to shops and restaurants. We particularly liked the Boatshed and Old Lifeboat house which offer excellent seafood menus.
Would Recommend: Yes
25th November 2018:

Great welcome, lovely room fantastic breakfast
Would Recommend: Yes
30th October 2018:

Dear Fione, Cher Arnauld, ist was a wonderfull unforgetable stay at your lovely Guesthouse. Sehr schön, mit Kunstwerken aus der Region eingerichtet. Tolle Lage mit Meerblick und ein absolut fantastisches Frühstück mit Spezialitäten und selbstgebackenem Brot. Nicht zu vergessen die inspirierenden Frühstücksgespräche und die kleinen täglichen Surprise (gebackenen Kekse)Vielen Dank und euch beiden weiterhin viel Freude und eine schöne Zeit.
Would Recommend: Yes
21st October 2018:

Wonderful hosts. A really fabulous stay in a perfect location. The decor is really beautiful, with the bedrooms/bathrooms done to a very high standard and very well maintained. The food is superb and beautifully presented, with lots to choose from. Thank-you
Tips:
Short walk from the main Bus and Train Stations enabling guests travelling without a car to access many parts of Cornwall. The information available in the accommodation has lots of ideas on things to do and one week is never long enough!!
Would Recommend: Yes
21st October 2018:

Would Recommend: Yes
16th October 2018:

Would Recommend: Yes
16th October 2018:

Very Good. Wide choice on breakfast menu. Have already booked for next year.
Would Recommend: Yes
13th October 2018:

Immaculate, convenient and charming.
Would Recommend: Yes
8th October 2018:

Hi Fiona and Armand, It was lovely to be able to stay at Blue Seas again. Wonderful breakfast, really comfortable bed, great shower, beautiful garden,first class location and view. I hope to come again.
Would Recommend: Yes
7th October 2018:

Would Recommend: Yes
1st October 2018:

We just got home from our month long trip and Blue Seas was by far our favorite place in our travels. The facilities are impeccably kept, but above all, we enjoyed Fiona and Arnaud and the atmosphere they provide. It was our first stay at a B & B and it was so much fun to meet other travelers and share ideas about the days activities and also get input from Fiona and Arnaud. And last but not least, the breakfast was incredible - also the best food on the trip. Thank you Fiona and Arnaud - I hope we can return very soon. Nancy and Rick Jevons
Tips:
Our favorite activities: Minack Theater Open top bus to Land's End and St Ives St. Michael's Mount Mousehole The Dolphin Tavern The Cornish Barn Savoy Movie Theater
Would Recommend: Yes
30th September 2018:

We really can't fault our stay at Blue Seas, lovely people, great room and as for the breakfast ....... amazing! Thanks for a wonderful holiday.
Would Recommend: Yes
26th September 2018:

Very friendly and super-helpful owners. Gourmet breakfasts, with homemade cereals, jams, breads, and chef-quality hot breakfasts, including eggs Benedict with smoked salmon! Extensive library in large, cozy lounge. Location overlooking the sea. Immaculate rooms with fresh linens, lots of pillows, modern bathroom. Warm and happy owners encourage very friendly atmosphere with guests talking to each other like a family. A+++!
Would Recommend: Yes
24th September 2018:

An absolutely delightful place to stay! Wonderful, helpful hosts, yummy breakfasts, lovely gardens and bright and inviting rooms, made our stay comfortable and especially memorable.
Would Recommend: Yes
20th September 2018:

Would Recommend: Yes
14th September 2018:

An excellent and informative welcome, relaxed and friendly atmosphere, and a sincere effort to ensure we were at home both in the hotel and in Penzance.
Tips:
A wide range of restaurants and amenities. Our hosts made every effort to keep us informed of them and of their location
Would Recommend: Yes
5th September 2018:

We had a fabulous stay at Blue Seas - beautiful rooms, perfect hosts and delicious breakfasts with an incredible choice. Fiona and Arnaud have thought of everything to make a stay in Penzance comfortable and fun and the hotel has great style.
Tips:
Loved Frasers for fish and chips including the gluten free option which was great for my son. Just a short walk along the prom. Fab ice-cream there too.
Would Recommend: Yes
3rd September 2018:

Fantastic stay and a warm welcome from Fiona and Arnaud, as always. Thanks again for your hospitality. Madeline Ashton
Would Recommend: Yes
3rd September 2018:

Would Recommend: Yes
7th August 2018:

Tasteful and welcoming run by Arno & Fiona who are friendly and cheerful. They have great local knowledge to share and the breakfasts are superb.
Tips:
Ideally located with Sea Views. Easy access to historic Chapel Street's characterful pubs, galleries and contemporary restaurants. Parking is available although many guests preferred the convenient local transport as well as enjoying direct access to the South West Coastal Path. Quality Eco credentials warmly wrapped within this Regency house. Strongly recommended and not only for the delightful room trays daily topped with delicious fudge & biscuits. A Very Welcoming Hotel and Enjoyable 4 days.
Would Recommend: Yes
27th July 2018:

Das Haus und die Zimmer sind liebe- und geschmackvoll eingerichtet, die Sauberkeit überragend. Die beiden Gastgeber Fiona und Arnaud sind herzlich, immer gut gelaunt und hilfsbereit. Das wunderbare, absolut lecker schmeckende und schön präsentierte Frühstück ist einfach Weltklasse! Wir werden das Blue Seas Hotel auf jeden Fall weiter empfehlen!
Tips:
Wir haben kleinere Wandertouren auf dem South West Coast Path unternommen, welche allesamt sehr schön waren. Die Natur in Cornwall ist einfach atemberaubend!
Would Recommend: Yes
22nd July 2018:

Would Recommend: Yes
18th July 2018:

The Blue Seas is an outstanding place to stay in Penzance. The rooms are newly decorated, spotless, and maintained daily to a very high standard. There is parking available. Some of the rooms have an ocean view. The price is very, very reasonable. A superb breakfast is included. It is within walking distance of the ocean and most of Penzance. But the most outstanding aspect of the Blue Seas is Fiona and Arnaud, the owners. They are so friendly, accommodating and helpful that we felt we were staying with friends. I felt we were lucky to have found the Blue Seas instead of the relatively expensive hotels nearby.
Would Recommend: Yes
18th July 2018:

Lovely hotel, warm and friendly welcome, fantastic breakfasts and great location. The decor was perfect, the lounge was very comfortable and the garden was beautiful. No effort was spared to make sure we were happy and little touches like biscuits and fudge in the room were nice. I would definitely recommend this hotel to others but would really like to keep it a secret!
Would Recommend: Yes
14th July 2018:

Greatly enjoyed my stay! Look forwyto coming back in the future!
Would Recommend: Yes
23rd June 2018:

Perfect! Lovely hosts - kind and helpful, delicious breakfasts and great location.
Would Recommend: Yes
21st June 2018:

Would Recommend: Yes
21st June 2018:

Would Recommend: Yes
17th June 2018:

Fiona and Arnaud are very friendly, helpful and flexible
Tips:
If you like indian food you need to visit the Restaurant Taj Mahal in Penzance. For italien food I can recommend the Gino's at the Queens hotel.
Would Recommend: Yes
16th June 2018:

All lovely - great room and view, friendly welcome. Loved it :)
Would Recommend: Yes
11th June 2018:

we very much valued the personnel contact , the nice decoration of the house as well as the best breakfast we ever had !
Would Recommend: Yes
8th June 2018:

As world travelers, we've been to many, many hotels, but the Blue Seas stands out on the top. Fiona and Arnaud were the most gracious hosts and they provided everything from a suitcase repair to great advice on what to see and do to enriching conversation. And the breakfasts they served were fabulous -- right out of the pages of Gourmet Magazine. We wish all of our hotel stays could come even close to the experiences we had at Blue Seas.
Would Recommend: Yes
2nd June 2018:

Simply perfect in all respects
Tips:
Has own parking. Town centre position yet off the beaten track. Five minutes walk to Isles of Scilly ferry. Within walking distance of Marazion and Newlyn. St Ives only a short bus or train ride away. Good walking country. Proprietors happy to recommend good eating places be it restaurants/pubs/cafes.
Would Recommend: Yes
29th May 2018:

Would Recommend: Yes
28th May 2018:

THE BEST B&B WE HAVE EVER STAYED AT. NOTHING TOO MUCH TROUBLE FOR THE OWNERS WHO MAKE YOU REALLY WELCOME. BREAKFAST MENU IS OUTSTANDING MANY 5 STAR HOTELS WOULD NOT BE ABLE TO COMPETE.
Tips:
GOOD INDIAN FOOD WITHIN 4 NINUTE WALK. PARKING AT BLUE SEAS IS PRIVATE AND GOOD SIZE.
Would Recommend: Yes
26th May 2018:

Exception hosts. Fantastic location (with free parking). Breakfast to die for and a view dreams are made from. A really top place we would certainly stay at again.
Tips:
Two restaurants we really enjoyed - Blacks (Chapel St) and Makerel (Newlyn)
Would Recommend: Yes
25th May 2018:

Without Blue Seas, Penzance would not be the same. Such a welcome and attention could not be bettered.
Tips:
To eat - The Old Lifeboat Station and Blacks are two excellent places for food and service. For travel, the bus services are a convenient and easy way to see places - forget your car.
Would Recommend: Yes
22nd May 2018:

Best breakfast in easily ten years of travel
Would Recommend: Yes
12th May 2018:

I really enjoyed my stay with you. Felt very well taken care of. The bed was extremely comfortable ( what mattress was it?), and I loved the sea view. Breakfast was amazing. Thank you!
Tips:
Really good location, overlooking the sea, and near the shops, pubs, etc. The Penlee Gallery and Museum, and other galleries are a short walk away.
Would Recommend: Yes
9th May 2018:

Excellent in every way !
Would Recommend: Yes
8th May 2018:

Loved everything about our stay with Blue Seas Pat Harris
Would Recommend: Yes
29th April 2018:

Would Recommend: Yes
26th April 2018:

Excellent private hotel, exceptionally clean with lovely,friendly,helpful owners.
Would Recommend: Yes
25th April 2018:

Really great stay in clean well kept hotel. Exceptional breakfast. Really good environmental policies. Fantastic, friendly and helpful hosts.
Tips:
Newlyn Picture House. Coastal Path. Turk's Head
Would Recommend: Yes
22nd April 2018:

We love to stay here for the warm welcome and attention to detail. The breakfasts are fantastic!
Would Recommend: Yes
20th April 2018:

Great location. Lovely room. Excellent breakfast.
Would Recommend: Yes
30th March 2018:

I thoroughly enjoyed my stay at the Blue Seas Hotel. My room was well appointed with a beautiful view over the seafront. The owners were warm and welcoming and the made-to-order breakfasts were a real highlight ...the kedgeree is a must-try! Thoroughly recommended as somewhere to stay for anyone planning a visit to Penzance.
Would Recommend: Yes
15th March 2018:

5 star luxury and Fiona and Arnaud are the perfect hosts - nothing is too much effort to help one's stay in this elegant and refined guest house. It's far better than many 4 and 5 star hotels I have stayed at. And the breakfasts are worth travelling for from the far ends of the country. The best place to stay in and around the Penzance area. Parking is virtually by the front door.
Tips:
Blue Seas is the perfect location in Penzance with its sea views and its closeness to restaurants, pubs and all the facilities that the area has to offer.
Would Recommend: Yes
27th February 2018:

Excellent all round - cannot say that enough
Would Recommend: Yes
21st February 2018:

Excellent as always
Would Recommend: Yes
18th February 2018:

When you read the other reviews about how good the guesthouse is you think it has a lot to live up to.I can definitely say they live up to them.In fact this ia probably the best guesthouse I have stayed at the attention to detail cleanliness food all excellent. They even supplied me with lactose free milk in my room. Dave and sue myall
Would Recommend: Yes
7th December 2017:

Would Recommend: Yes
2nd December 2017:

Quiet location, 10 min from the station. Nice decor, very clean and loads of thoughtful touches. Always a lovely welcome. Breakfast is the best anywhere.
Would Recommend: Yes
30th November 2017:

I love coming to stay at Blue Seas. There is always a warm welcome and I know everything will be clean. The breakfast is outstanding too.
Would Recommend: Yes
13th October 2017:

Quality friendly service and great location
Tips:
Dolphin Tavern serves good pub food
Would Recommend: Yes
5th October 2017:

This stay was one of the most perfect in all our travels! From the warm welcome on arrival to the help with our departure (taxi, etc.), we were delighted. The breakfasts were amazing, the views were wonderful, the room was very comfortable and spotless, the daily little treats (biscuits & fudge) were yummy, the yard/flower garden was spectacular. We have already recommended Blue Seas to others.
Tips:
Much of Penzance shopping is in easy walking distance, as are some good pubs and restaurants. We especially liked Turks Head pub and the Queens Hotel. The local bus ride to Lands End was quite an experience. We had rain a lot of the time and didn't get out as much as we might have, but it was quite pleasant to rest in our room and watch the rain on the bay.
Would Recommend: Yes
28th August 2017:

What a lovely house with nice rooms and wonderful breakfast (never had anything alike). So much care for small details which make a very big difference. Very clean.
Tips:
Penzance is a perfect point from which to explore Cornwall. Fiona and Arnaud are very helpful in finding walks, visits, Restaurants and many more.
Would Recommend: Yes
.