Chypons Farm, BnB
Chypons Farm Nancledra St Ives
Tel: 01736740303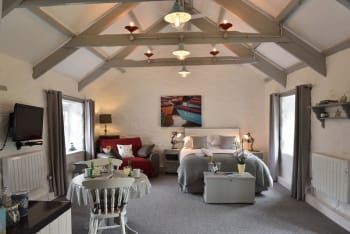 The BnB suite at Chypons farm is totally self contained with it's own entrance and is located in 300 year old granite barn. The building retains many of it's original features from a stable door entrance approached by steps that show the character of the old barn giving you access to your private BnB suite with its beamed and vaulted ceiling. The suite itself offers a good open space to relax and is fully self contained with king size double bed, 2 seater sofa, table and chairs. You have you're own private ensuite shower room. Our breakfast is a Cornish continental with Muffins made by Jordans of Marazion yoghurt from Trewithen dairy along with cereals, fresh fruit all to be washed down with Cornish apple juice, fresh coffee and Cornish smugglers tea.
Availability
There are no rooms available at Chypons Farm, BnB
for these dates.
Please try other dates or select a
different property
.
rooms
Max:
En suite
Room Facilities:
Central Heating
Coffee Maker
Complimentary Toiletries
Daily Housekeeping
Duvet
Electric Shaver Point
Flat Screen TV
Fridge
Full-Length Mirror
Hairdryer
Heated Towel Rails
Heating Throughout Property
Iron and Ironing Board on request
Kettle
King Size Bed
LCD/Plasma Television
Linen & Towels Supplied
Remote Control TV
Satellite Television Channels
Shower EnSuite
Tea/Coffee
TV In Room
WC EnSuite
WI-FI Internet Access
Wifi Free
Facilities
Cornish continental breakfast
Internet Access
Policies
Check In: Between 16:00 and 20:00
Check Out: Between 6:00 and 10:30
Wi-fi: Wireless internet is available and is free of charge.
Smoking: There is no smoking permitted anywhere within the property.
Parking: Parking for all guests is available on site and is free of charge.


Children: All guests must be 18 or over, no children are allowed.
Pets: Pets are not allowed.
Groups: All groups are accepted.
Average
4.9
out of 5
34 reviews
100% recommend
Reviews
16th June 2019:

The B&B is beautiful, full of thoughtful touches from the owners. Hosts are very knowledgable about local attractions.
Tips:
St Ives is lovely but book a head of time if you are going out to eat!
Would Recommend: Yes
11th April 2019:

Lovely stay again. Perfect place to unwind, you can't help feeling relaxed waking up to birdsong and looking out over the beautiful garden. Will definitely be back.
Would Recommend: Yes
3rd November 2018:

Would Recommend: Yes
5th October 2018:

Chypons Farm is way above any other B&B where we have stayed. A beautiful room and very comfortable bed. Pretty garden. Julian and Kate have thought of everything to make our stay such a pleasure.
Tips:
Very well situated for St Ives, St Michaels Mount and the Cornish coast. In the room there is all the information needed about restaurants and things to do. We had some good meals at the White Hart at Ludgvan
Would Recommend: Yes
30th September 2018:

Would Recommend: Yes
10th September 2018:

Great service, great knowledge about local area, really welcoming and friendly.
Tips:
Beer and bird in Saint Ives - for you chicken lovers, great meal. Firehouse grill in Saint Ives - burger and steak lovers another great meal. Rum and crab - great Rum drinks and must try their own Rum - dead mans fingers, so nice. Saint Michaels Mount - great visit and interesting.
Would Recommend: Yes
8th September 2018:

Lovely hosts, peaceful location and a beautiful comfy room with everything you could need and more. Felt completely relaxed after my mini break there and hope to return soon.
Would Recommend: Yes
7th August 2018:

Wonderful place to stay, so peaceful. Everything was perfect. The location is just right for all your sightseeing. We stayed at the B and B and would highly recommend it,the decor is beautiful, with the most comfortable bed. Fresh muffins every morning makes the stay heavenly. We will definitely be rebooking a holiday here again, really sad to leave. Thank you Julian and Kate for a much needed rest. Anna and Jonathan South Wales
Tips:
Lovely Sunday lunch at the Fire Engine Inn in Marazion. Best fish and chips at Becks. Be sure to keep an eye on the weather with Julian's Cornish weather stone
Would Recommend: Yes
31st July 2018:

Great accommodation and breakfast.
Tips:
Walk from Zennor to St Ives is stunning. Monaco theatre is recommended.
Would Recommend: Yes
6th July 2018:

Really nice room and vary spacious. I liked the idea of the self contained breakfast within the room.
Would Recommend: Yes
21st June 2018:

We had a very enjoyable stay in the B & B suite and loved the big light space. The breakfast area was very well equipped with a nice coffee machine and good selection of teas etc.. Kate and Julian had thought of everything right down to a sharp knife to cut up the fruit. The garden was a lovely tranquil space to relax and the summer house was a good refuge from the football on the TV!
Tips:
We had two enjoyable trips to St Ives, once to The Tate with a nice lunch at the beach cafe just below and another visit to The Barbara Hepworth Museum and Garden followed by an excellent lunch at The Seafood Cafe in Fore Street. We eventually managed to find Botallack Mine (via a small unsignposted track in the village) and experienced Poldark country.
Would Recommend: Yes
14th June 2018:

Would Recommend: Yes
9th June 2018:

We were welcomed by Julian, who showed us where to park and walked us around the studio apartment. He took the time to explain everything and answer any questions we had. The standard of the studio is excellent, one of the best we have experienced, quality furniture, sofa, tv, everything you would want and need during a stay. The studio was spotless, cannot fault it at all. The breakfast was a vast choice of local produce, fruit, fresh muffins (Kate even asked what flavour we would like!) yoghurt, cereals, everything and more. The outside space was extensive, calming and beautifully maintained. I can only highly recommend a stay at Chypons Farm and Julian and Kate's hospitality. In fact my sister and I could have just moved in and we will definitely be returning soon. Thanks Julian and Kate.
Tips:
Chypons Farm is centrally located to everything you would want to see in Cornwall. Good position for north and south coasts. Julian has a vast knowledge of the area and all it's amenities. Sculpture Gardens, St Michaels Mount, it's so close to everything, so good a position to visit the main attractions.
Would Recommend: Yes
7th June 2018:

Would Recommend: Yes
25th May 2018:

We were made to feel very welcome.The B&B suite was very comfortable and immaculately clean.
Tips:
The Engine Inn was not serving food on the Tuesday night.We tried the Water mill at Lelant,the food there was excellent.
Would Recommend: Yes
22nd May 2018:

Highly recommended. Beautiful large en suite room with a comfortable bed and great shower. Excellent range of food and drinks to enable you to prepare your own Cornish breakfast. The facilities have been well thought out and we very much enjoyed the experience. We shall return on a subsequent visit to the area.
Would Recommend: Yes
11th May 2018:

Kate and Julian went the extra mile to make our stay enjoyable. Their knowledge of the area was most welcome, and the information available was much appreciated.
Tips:
We felt we made the most of our time in Cornwall 3 nights St Michaels Mount Penzance The Minack Theatre Penzance Lands End Geevor Tin Mine Park and ride - train to St Ives St Ives The white Hart pub was very good and close to Chypons Farm
Would Recommend: Yes
9th April 2018:

We had a wonderfully relaxing 4 night stay in 'The Barn' cottage. Julian and Kate made us very welcome and have equipped the cottage with everything you could possibly need for a perfect stay. We will certainly be returning in the future.
Tips:
Tremenheere sculpture garden and Trebah gardens were both lovely places to visit, neither of them being too crowded. Views over to St Michael's Mount from the top of Tremenheere were stunning. A train trip in to St Ives from Lelant Saltings park and ride is well worth it. Views across the bay and no stress with trying to find a parking space in St Ives.
Would Recommend: Yes
28th October 2017:

Lovely accommodation - we have now revisited and were not disappointed. Very comfortable and cosy. Lovely Banana Muffins. Looking forward to staying again in 2018
Would Recommend: Yes
28th September 2017:

Super clean and fresh it looked like new
Would Recommend: Yes
27th September 2017:

Superb accommodation with every comfort. Spotless. Great base for touring especially when you can return at the end of a busy day to such a relaxing and comfortable place to stay. Just the right level of care and attention from very welcoming hosts.
Would Recommend: Yes
20th September 2017:

We stayed in the Barn with Bed & Breakfast. The room was beautifully decorated and very clean. It was large, we had plenty of room and the sun shone in through the windows that overlooked the lovely garden. The breakfast provided was excellent. Kate and Julian met us on arrival, showing us around and giving us all the information about our stay and what to do in the area. They are both lovely people and made us feel very welcome. We really enjoyed our stay and will stay here again.
Tips:
It's great to wander round St Ives and watch the world go by. A trip on the train from Carbis Bay to St Ives is a must. Helligan gardens Is a wonderful day out.
Would Recommend: Yes
Owner Response:
Thank you, if you are planning a trip to Heligan we can provided discounted tickets (about 25% off) just ask on arrival.
17th September 2017:

Wonderful room, lovely farm, very thoughtfully designed and created B&B, really good breakfasts and Julian and Kate are really lovely people and very professional yet friendly hosts.
Tips:
You're equidistant here from Penzance and St Ives, (perhaps a little closer to St. Ives) and there are lots of shops restaurants and everything in both places as well as a wide selection of pubs much closer.
Would Recommend: Yes
14th September 2017:

Would Recommend: Yes
11th September 2017:

A short but very enjoyable stay
Would Recommend: Yes
24th August 2017:

Excellent Excellent Excellent would highly recommend
Would Recommend: Yes
10th August 2017:

all was great
Tips:
don't hesitate: just go, you won't regret
Would Recommend: Yes
1st August 2017:

Thank you for making us so welcome - the B&B is really well equipped and we were very comfortable during our weekend away.
Would Recommend: Yes
12th July 2017:

One of the best B&B we stayed in the Uk. A very large room , very nicely furnished with plenty of pleasant details: books to read, maps of the area, walking stick, umbrella, even a torch. . The breakfast was self made... but there are a lot of fresh and nice products..
Tips:
Very closed to St Ives, St Michael Mount . Several nice pubs nearby to eat. We went to the Engine Inn a couple of times ..
Would Recommend: Yes
12th June 2017:

Would Recommend: Yes
12th June 2017:

We had a lovely stay. The room is so beautiful and done to such a high standard. The host was brilliant, giving us tips on great places to walk. Beautiful part of the country but very close to st ives and penzance for day trips without the bustle. I couldn't recommend it highly enough.
Would Recommend: Yes
28th May 2017:

AMazing place with everything you could want or need, hosts were very friendly and helpful even offering to drive us to the resturants . We stayed at the B&B room and the breakfast was so lovely , we loved the breakfast muffins and the local Apple juice.
Tips:
St Ives so lovely , local resturants to eat at and plenty more in St Ives.
Would Recommend: Yes
9th May 2017:

Thanks again for your very kind hospitality, your help with our washing and your tip for a very nice hike along the coastal path to the Tinners Arms. We liked your place a lot, the spacious room and all the other amenities of your bnb.
Tips:
Go there!
Would Recommend: Yes
Owner Response:
Thank you for your kind words and we are very pleased that you enjoyed your stay at Chypons farm.
15th April 2017:

Would Recommend: Yes
.